Stuart A. Greene D.D.S-FAGD
Cosmetic Dentistry, Sedation Dentistry, Implant Dentistry, Restorative Dentistry
Serving Temple Texas from our office located at
2009 Birdcreek Terrace
Temple Texas 76502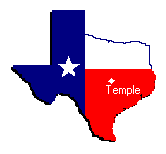 We are located in Temple, Texas, just 60 miles north of Austin on IH-35 the mainstreet of Texas.
Temple Texas was established in 1880 as a railroad town on the Gulf, Colarado & Santa FE Railroad and the Missouri, Kansas & Texas lines. Much of our HISTORY centers around the railroads. Today, retail trade, agricultural and one of the Southwest's leading Medical Centers calls Temple home.
TEMPLE TEXAS LINKS

Temple Texas is in the heart oflBluebonnet Country and turns into a sea of blue in the spring. There are waves of Wildflowers in Central Texas as one variety dies another variety of another color takes its place.

Return To
Information | Introduction | Map | Extra
Specializing in Cosmetic, Sedation, Restorative, Implant and Comprehensive Dentistry
Stuart A. Greene, DDS-FAGD
2009 Birdcreek Terrace Temple, TX 76502 254.773.9007 | Fax 254.773.8051
©2008 Stuart A. Greene, DDS-FAGD | Online since 1996 | updatedContinuously